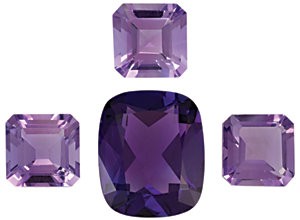 February is a short and sweet month with Valentine's Day right in the middle to warm up the winter days.
The wide variety of amethyst gemstones look beautiful and are relatively inexpensive in comparison with other gemstones.
Amethysts come in the most well known purple shades and also in a wide variety of colours and cuts to please all tastes.
This pretty purple amethyst cocktail ring in Sterling Silver looks gorgeous any time of the year, or wear it at your Oscar night party and feel just like a Hollywood starlet!
Angela