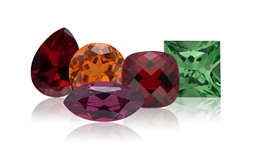 What better way than to turn up the heat a bit with garnet, a beautiful red gemstone?
January is generally a cold, crisp month with not a lot to warm the cockles of our hearts but for those with a birthday in January you have the luck of lighting your fire with red hot garnet birthstones.
An interesting note – a certain type of garnet known as G10 is one of the indicator minerals associated with the discovery of diamonds!
Happy Birthday to you.
Angela