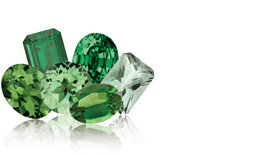 May is here and perhaps the new leaves unfurling on the trees in gardens everywhere in the northern hemisphere are the reason for emerald being the birthstone for the month.
Emerald is a beautiful gem and has been thought of as making its wearer quick-witted and more intelligent!
The gem has seen a resurgence in popularity since Pantone chose it as 2013's colour of the year, Hollywood stars were recently seen sporting the verdant green, one of my favourites – Julianne Moore really suits it as the colour complements her gorgeous auburn hair.
Emeralds can be hard to live with though as they are prone to cracking so if you are the proud owner of emerald jewellery, please be careful with it as it is not very tough and doesn't withstand knocks very well.
Emerald should never be cleaned in an ultrasonic or steam cleaner, mild soapy water with a soft brush is the best way to keep it sparkling.
Angela